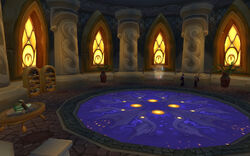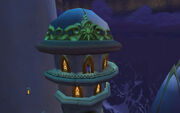 The Purple Parlor is a part of the Violet Citadel in Dalaran. It houses several mages and has a balcony for a view out to Dalaran. A portal down to the ground floor of the citadel also exists.
It is possible to mount a flying mount on the balcony and fly out of Dalaran. It is also possible to jump off the balcony and slow fall down to Dalaran.
Ad blocker interference detected!
Wikia is a free-to-use site that makes money from advertising. We have a modified experience for viewers using ad blockers

Wikia is not accessible if you've made further modifications. Remove the custom ad blocker rule(s) and the page will load as expected.