Reins of the Purple Netherwing Drake

Item Level

70

Requires level 70
Requires Riding (300)
Use: Teaches you how to summon this mount. Can only be summoned in Outland or Northrend. This is a very fast mount.
Vendor 200
This mount is a quest reward from the quest

 [70] Malfas the Purple Netherwing Drake. It can also be bought from Drake Dealer Hurlunk on Netherwing Ledge in Shadowmoon Valley for 200

. You must be exalted with the faction Netherwing to obtain the quest and the right to purchase the mount.
Edit: The Purple Netherwing Drake is now able to be flown in Azeroth, as well as Northrend and Outland.
It appears players who are in a guild level 24 or higher and have the Bartering guild perk will gain an additional 10% discount, lowering the overall price to 180

gold.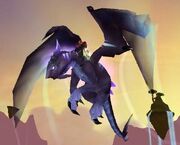 External links
Edit
Ad blocker interference detected!
Wikia is a free-to-use site that makes money from advertising. We have a modified experience for viewers using ad blockers

Wikia is not accessible if you've made further modifications. Remove the custom ad blocker rule(s) and the page will load as expected.