Proto-Drake Whelp

Use: Teaches you how to summon and dismiss this companion.
Sell Price: 25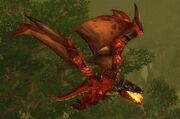 Proto-Drake Whelp is one of six possible drops from a Mysterious Egg. It resembles a red proto-drake, but considerably smaller. Its drop rate is reported to be low, so keep your fingers crossed!
Like certain other flying pets, this pet follow you in flight.
External links
Edit
Ad blocker interference detected!
Wikia is a free-to-use site that makes money from advertising. We have a modified experience for viewers using ad blockers

Wikia is not accessible if you've made further modifications. Remove the custom ad blocker rule(s) and the page will load as expected.