"Unauthorized entry detected. Engaging annihilation protocols." [1] (

TCGBT 39

)
Promenade Sentinel can be found in Black Temple.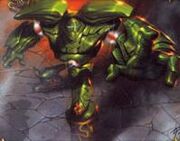 Abilities
Edit
L1 Arcane Charge (Arcane) - Causes 1,259 to 1,391 Arcane damage to an enemy target.
L4 Arcane Charge (Arcane) - Causes 7,013 to 7,987 Arcane damage to nearby enemies.
L5 Arcane Charge (Arcane) - Deals Arcane damage to a single target equal to 100% of the target's maximum health.
Popularly nicknamed "One-Shot the Robot" due to its ability to kill a random player in the raid.
Patches and hotfixes
Edit

Patch 2.1.0 (22-May-2007): Added

External links
Edit
Ad blocker interference detected!
Wikia is a free-to-use site that makes money from advertising. We have a modified experience for viewers using ad blockers

Wikia is not accessible if you've made further modifications. Remove the custom ad blocker rule(s) and the page will load as expected.