Ad blocker interference detected!
Wikia is a free-to-use site that makes money from advertising. We have a modified experience for viewers using ad blockers

Wikia is not accessible if you've made further modifications. Remove the custom ad blocker rule(s) and the page will load as expected.
Promenade Sentinel

Race
Arcane golem (Mechanical)
Level
72 Elite
Health
464,940
Wealth
1 6 80
Reaction

Alliance

Horde

Location
Grand Promenade, Black Temple
See
"Unauthorized entry detected. Engaging annihilation protocols." [1] (

TCGBT 39

)
Promenade Sentinel can be found in Black Temple.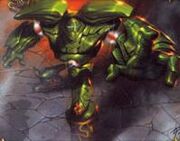 Abilities
Edit
L1 Arcane Charge (Arcane) - Causes 1,259 to 1,391 Arcane damage to an enemy target.
L4 Arcane Charge (Arcane) - Causes 7,013 to 7,987 Arcane damage to nearby enemies.
L5 Arcane Charge (Arcane) - Deals Arcane damage to a single target equal to 100% of the target's maximum health.
Popularly nicknamed "One-Shot the Robot" due to its ability to kill a random player in the raid.
Patches and hotfixes
Edit
0200

Patch 2.1.0 (22-May-2007): Added

External links
Edit