103,470pages on
this wiki
Talk

0
Prayer of Healing
Usable by
Class
Priest
Properties
Type
Utility
School
Holy
Cooldown
 (GCD 1.5 sec)
Talents
Specialization
Discipline, Holy
Level required
46

TCG

image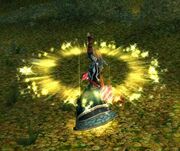 Prayer of Healing is a priest ability learned at level 46 for those with the Discipline or Holy specializations. It is a healing spell that heals a friendly target's party. Prayer of Healing heals each member of the target's party for roughly the same amount of a current rank [Flash Heal], making it extremely useful in group emergencies.
Modified by
Tips
Prayer of Healing is especially suited to use in conjunction with

[Inner Focus]

, as its mana cost is high and it is capable of a crit.
It should be used if three or more party members are damaged.
For holy priests, this spell is especially useful when the priest is in

[Spirit of Redemption]

as the high mana cost is reduced to zero.

[Serendipity]

also decreases the casting time of the spell when the priest heals with Flash Heal.
Patch changes
External links