104,173pages on
this wiki
Talk

9
Join the
WoWWiki friends

Facebook group!
Follow WoWWiki
on

Twitter!
Welcome

to

WoWWiki
the free Warcraft universe source that
anyone
can
edit• How much of Draenor have you explored? •
Selected Warcraft universe articles
Warcraft III patch news
Warcraft III patch – current 1.24b · next TBA
Patch 1.24b
PC World Editor

Increased max map file size from 4 MB to 8 MB.
Added the ability to store hashtable handles in a hashtable.
Added GetSpellTargetX and GetSpellTargetY natives.
Added a new base handle type "Agent" of which many types now extend from.
Added a SaveAgentHandle native which can be used for saving most handle types.
Added a JASS optimization dealing with global variable change events.

Fixes

Fixed a few false positives caused by the "return bug" fix.
Fixed a crash related to hashtable reference counting.
"Shadowing" global variables with local variables no longer is possible.
Fixed a type conversion dealing with operators (i.e. adding a handle with an integer).
Warcraft news(news you can edit!)
WoWWiki news
Help, policies and guidelines
WoWWiki is a wiki dedicated to cataloging Blizzard Entertainment's Warcraft universe, including World of Warcraft, covering the entire Warcraft series of games, RPG reference books, strategy guides, novels and other sources.
Want to help out? Get an account, and start editing!
Got questions? Check out the help pages or visit our forums! We love having new editors around!
For more info about WoWWiki, visit WoWWiki:About and the community portal.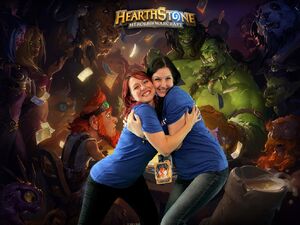 World of Podcasts's The Con Before The Storm BlizzCon 2015 party!
0
WoWWiki
Join the Chat>