102,949pages on
this wiki
Talk

3
Join the
WoWWiki friends

Facebook group!
Follow WoWWiki
on

Twitter!
Welcome

to

WoWWiki
the free Warcraft universe source that
anyone
can
edit• Have you crushed Blackhand? •
Welcome to the Burning Crusade information center
Look no further for World of Warcraft: The Burning Crusade content! The following is just a small selection of what we have...
Please note we do not mark spoilers - you have been warned!
General info
---
---
Patch 2.3 - In the deepest jungles... Zul'Aman awaits.

Guild banks introduced
Leveling from 1-60 made faster

Experience needed between level 20 and 60 reduced
Experience gain from level 30 to 60 quests increased
Experience and faction gain increased in level 1-60 dungeons
Some elite monsters have been made normal to make soloing easier
---
New races
Blood elves and Draenei are the first two new playable races introduced since the original World of Warcraft release. Along with more lore adjustments than some lore hawks would like, in World of Warcraft: The Burning Crusade, the blood elves arise from the high elves and the draenei from the previously thought to be evil, eredar. The blood elves decided to join the Horde to fight common enemies (demons) and for their help getting to Outland. The draenei were befriended by the nearby night elves and joined the Alliance.

Starting quest areas

Blood elves

Draenei

New racial mounts

Blood elves

Draenei

New capital cities

Blood elves

Draenei

Leaders

Blood elves

Draenei
Instances
Want to run these instances in Heroic mode? The only requirement is reaching level 70! No key buying (at honored) required!
Warcraft news(news you can edit!)
WoWWiki news
Help, policies and guidelines
WoWWiki is a wiki dedicated to cataloging Blizzard Entertainment's Warcraft universe, including World of Warcraft, covering the entire Warcraft series of games, RPG reference books, strategy guides, novels and other sources.
Want to help out? Get an account, and start editing!
Got questions? Check out the help pages or visit our forums! We love having new editors around!
For more info about WoWWiki, visit WoWWiki:About and the community portal.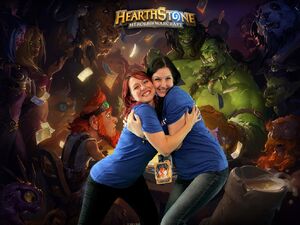 Help support World of Podcasts BlizzCon 2015 party!