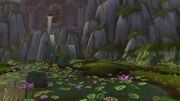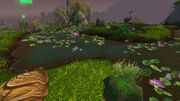 The Pools of Purity[60.7, 27.5] are located due north of New Cifera in the Valley of the Four Winds. Pandaren harvest the lotus flowers here for a variety of reasons, including culinary, medicinal, and decorative. The flowers are brought to New Cifera for sorting before being shipped throughout Pandaria.
The lowest pools bordering the Sunsoaked Meadow/Grassy Cline have non-hostile turtles in them (and the pig, Ling, needed for Thunderfoot Ranch), but the highest pools are a different story.
Inhabitants
Edit
Quest givers/enders
NPCs
Mobs
Patch changes
Edit
External links
Edit
Ad blocker interference detected!
Wikia is a free-to-use site that makes money from advertising. We have a modified experience for viewers using ad blockers

Wikia is not accessible if you've made further modifications. Remove the custom ad blocker rule(s) and the page will load as expected.