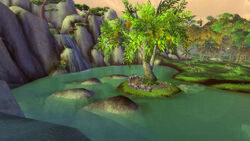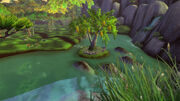 The Pool of the Paw can be found in the northwestern part of Pei-Wu Forest on the Wandering Isle. It gets its name from the four stones rising from its waters which, when paired with the small island near its heart, resembles a paw.
The island has a single tree and what appears to be either a shrine or some other pandaren architecture upon it. The only inhabitants are tigers, with their cubs frolicking around them as they sleep.
Inhabitants
Edit
Patch changes
Edit
Ad blocker interference detected!
Wikia is a free-to-use site that makes money from advertising. We have a modified experience for viewers using ad blockers

Wikia is not accessible if you've made further modifications. Remove the custom ad blocker rule(s) and the page will load as expected.