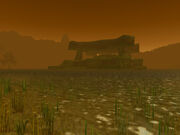 Described as being "the largest bog in the Swamp of Sorrows",[citation needed] this is the location where Ysera sunk the Temple of Atal'Hakkar under its waters. It is deep and not as murky as the rest of the swamp's waters, and many Frenzies swim in its waters. Also, there are some Atal'ai ruins here where scattered Atal'ai Artifacts can be found.
Ad blocker interference detected!
Wikia is a free-to-use site that makes money from advertising. We have a modified experience for viewers using ad blockers

Wikia is not accessible if you've made further modifications. Remove the custom ad blocker rule(s) and the page will load as expected.