Pilfered Pumpkin

"Plump. Quite ready to be made into pie."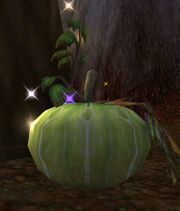 This item is needed for the quest Still Good!, given by Gao Summerdraft at the Dai-Lo Farmstead on the Wandering Isle.
While they can be found in the pumpkin fields closest to the Farmstead, they can also be found discarded around the trees within the Virmen Grotto[78.1, 70.8].
Patch changes
Edit
External links
Edit
Ad blocker interference detected!
Wikia is a free-to-use site that makes money from advertising. We have a modified experience for viewers using ad blockers

Wikia is not accessible if you've made further modifications. Remove the custom ad blocker rule(s) and the page will load as expected.