For the Pile of Bones sought for

Separation Anxiety

, see Pile of Bones.
Pile of Bones

"A fallen soldier, stripped of flesh."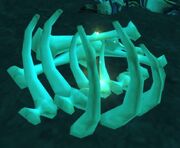 A Pile of Bones is one of three items required to create an explosive Armored Soldier Decoy out of the [Copperclaw's Volatile Oil] (horde) or [Smuggled Solution] (Alliance) for the quests:
Abandoned Armor and an Abandoned Helm are also required.
The wowhead page for the Pile of Bones world object uses the same ID for this object (type) as for the one in the Hinterlands.
External links
Edit
Ad blocker interference detected!
Wikia is a free-to-use site that makes money from advertising. We have a modified experience for viewers using ad blockers

Wikia is not accessible if you've made further modifications. Remove the custom ad blocker rule(s) and the page will load as expected.