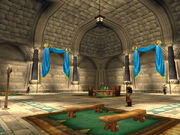 The Petitioner's Chamber (aka Hall of Petitioners) is the first room to the left when ascending the ramp into Stormwind Keep. This is where the public waits when they have sought an audience. There are currently three public attendants in the room, including Caledra Dawnbreeze, Count Remington Ridgewell, and Bishop DeLavey.
Inhabitants
Edit
Patch changes
Edit
Patch 4.0.3a

(2010-11-23): moved to the left of the entry hall

Ad blocker interference detected!
Wikia is a free-to-use site that makes money from advertising. We have a modified experience for viewers using ad blockers

Wikia is not accessible if you've made further modifications. Remove the custom ad blocker rule(s) and the page will load as expected.