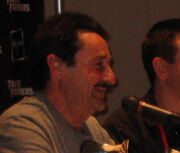 Peter Cullen was going to be the voice actor of Orgrim Doomhammer in the cancelled game Warcraft Adventures.[1] Later Blizzard Entertainment employed him to narrate one of their trailers for Warcraft III: Reign of Chaos, transmited in the E3 of 2003.[2] He is best known as the voice of Optimus Prime in the original Transformers cartoon, and the Michael Bay films.
External links
Edit
Reference list
Edit
Ad blocker interference detected!
Wikia is a free-to-use site that makes money from advertising. We have a modified experience for viewers using ad blockers

Wikia is not accessible if you've made further modifications. Remove the custom ad blocker rule(s) and the page will load as expected.