Pet Bombling

Item Level

41

Use: Teaches you how to summon this companion.
Sell Price: 25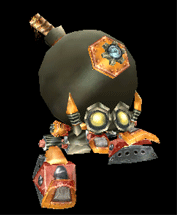 Pet Bombling summons and dismisses Tiny Walking Bomb, a bom bot companion — it is a non-combat pet despite its appearance.
Pet Bombling is crafted by Engineers with a skill level of 205.
4x Fused Wiring, 1x Big Iron Bomb and 4x Silver Contact will be left over if the engineer is provided with these materials.
The recipe for this item is taught by Schematic: Pet Bombling, which drops from Mekgineer Thermaplugg, the final boss of Gnomeregan.
Patch changes
Edit

Patch 3.3.3 (2010-03-23): The [Pet Bombling] and [Lil' Smoky] non-combat pets are no longer Bind-on-Pickup.


Patch 3.1.0 (14-Apr-2009): The schematic for this item was removed as a possible item to be received from renewing the Goblin Engineering membership, and made available as a drop from various mechanical creatures in Gnomeregan.

External links
Edit
Ad blocker interference detected!
Wikia is a free-to-use site that makes money from advertising. We have a modified experience for viewers using ad blockers

Wikia is not accessible if you've made further modifications. Remove the custom ad blocker rule(s) and the page will load as expected.