103,470pages on
this wiki
Talk

8

Previewed at BlizzCon 2011, the Pet Battle System will allow formerly non-combat pets, also known as companions, to become battle pets and battle each other for bragging rights, leveling, and addition of abilities. While this feature will not be released until the

Mists of Pandaria expansion is released, the expansion will not be required use the pet battle system and will be available to all players.[1]
Background
From the official World of Warcraft: Mists of Pandaria website:[2]
For years, your faithful vanity pets have accompanied you on countless adventures. They've provided you with comfort, company, sometimes even with entertainment and hours of fun. Maybe you only have a handful of pets you really love, or maybe you have made it your quest to capture as many of them as you can. The fact remains, heroes love their little companions... and in Mists of Pandaria, they will take the spotlight in a brand-new way.
Beta FAQ
As of Beta build 15851:[3]
Fight pets around the world in solo, 2v2 and 3v3 battles.
Capture pets in the world of varying quality and strength.
Duel and queue for PvP battles against other players.
Interact on an epic questline to defeat Master Pet Tamers across all of Azeroth.
Buy and sell pets on the AH (not all pets are tradable, like wild caught pets).[4]
Earn a wide assortment of Pet Battle achievements and associated rewards.
Browse the new Pet Journal and manage your pets.
Use your pets across any character on your Battle.net account (Battle Pet achievements are account-wide).
Known issues:[3]
Pets are currently healing to full health after a battle. This is a known bug and hotfix planned soon.
Pre-existing pets have no stats. Any pets that you acquire new are fine. This is also a bug to be hotifxed soon.
In certain cases, starting a pet battle with a creature in the world will report an error about the pet being currently in battle, or that the account is locked. Both of these are hopefully on the hotfix list.
Some pets will be missing abilites, ability FX or animations.
The questline is very much work-in-progress.
The XP curve being tuned so any feedback on this is appreciated.
Spawn rates on pets in the world are WIP. Feedback on this is appreciated.
An issue where players are sometimes losing a battle slot. A relog should fix the problem.
Upcoming in Beta
Post build 15882:[5]
Unique Tamer emotes.
Unique Tamer pets.
Tamer battles have been tuned up in difficulty.
One Grand Master Tamer per continent. Defeating him/her will unlock all the daily's on that continent.
The flow has been consolidated to work though our two main trainers in Stormwind and Orgrimmar.
We have implemented more than 40 Tamer fights across the entire game. This does not include the boss fights!
Daily quests on Grand Master Tamers offer the Sack of Pet Supplies as a reward.
A new achievement reward for defeating all the Tamers. A "Tamer" title.
All of the quests to fight Tamers are now account-wide. This means that the one-shot quests can only be completed by one character on your account. The daily's can be completed by any character, once per day. Account wide quests are denoted in the quest log.
Information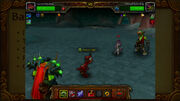 This system will act much like a secondary profession and will be available to all players.[6]
Companions will now be able to battle each other in a new turn-based combat system to level up and unlock new abilities. Pets will also be able to encounter and battle pets in the wild to capture them for the player.[2] Players will be able to fight with teams of pets up to 3 for each player at a time.[7] Customization, progress status, abilities and info will be tracked in a new Pet Journal.[7]
Eventually you will be able to seek out new Master Pet Tamer NPCs (were called master pet trainer) to learn new pet abilities from them if your pet is worthy and can defeat the trainer's pet.[2]
Engaging in pet battles may award the player experience similar to gathering professions.[8] Players may disable invites to pet battles.[8]
To get the highest percentage possible of participants, Blizzard has decided that players will not know the identity of players they are fighting against. This is to avoid trash-talking. Another way they are hoping to diminish the negativity involved in some aspects of PvP, they are also only recording wins.[9]
Details
Some more details were released during the March 2012 press event:[10]
Battles
A battle will feature a player and his 3 pets standing on each side of the screen, with 1 pet will move towards the middle as the active combatant.

On each turn, you can use 1 of the active pet's 3 abilities or swap to a different pet.
Possibly 2 general abilities that you could use once per game.
No record of your losses will be kept, only a running total of your victories.
Pets
Name your pets.
Each pet will have 6 possible abilities that you can unlock and pick 3 from for each fight.
Pets have 4 stats: health, attack, defense, and movement, which acts like an initiative roll, deciding who attacks first.
Pets are leveled individually and you unlock pet slots by earning achievements in pet battles.
Other
You will not see other players' names or be able to chat during pet battles.
Limitations
General limitations:
Known limitations on pets that can be used for battle:
Trading pets:[12]
Pets excluded from battle system:[12]

Currently the exceptions are pets with humanoid children models. They will not be included in pet battle system.
Nor will the

[

Guardian Cub

]

.
NPCs
Battle Pet Trainers[3]
These NPCs teach players Battle Pet Training, granting the ability to fight and capture pets. The training comes with a pet heal/rez spell and the ability to track pets in the world. These trainers can be found in all the racial start zones as well as Orgrimmar and Stormwind. The guards in the capitals can direct you to them as well. Note that this training is account-wide, so you only need to learn it on one character.
Pet Battle Training requires level 5 and 100g.
Master Pet Tamers[3]
These are NPCs for the battle pet questline. You can fight these characters in a pet battle for increased XP, achievements and rewards. Defeating the Grand Master on each continent will unlock daily quests (via an achievement) for all of the other Tamers on that same continent.
Pet Journal
Main article: Pet Journal
You will track all your battle pets via the Pet Journal and build teams to battle other player's pet teams. This will be the main UI for the system when not in battle.
Details from the Beta FAQ:[3]
Players can have up to 500 total pets and up to 3 versions of the same pet.
Pets can be named, released, marked as favorite or put in a cage for trading/selling from the journal.
Filters allow you to sort your collection by family, source, collected/not collected or favorites.
Source info shows you where to obtain a pet and small lore blurb about it.
Abilites loadouts for your pets are set in the journal. This becomes available on pets at level 10.
View stats on your pets. Stats include Health, Speed, Power and Quality.
Battle pets
Main article: Battle pet
Account-Wide Pets[3]
Pets (companions) are now account-wide. This means that any pet you have on one character will be shared with all of the others on your Battle.net account. Earn level 6 with Grunty on character A? Log in character B and that level 6 Grunty will be there waiting for you.If you have multiple versions of the same pet on multiple characters on your account, they will be merged into one. We will place any extras in your bags or mail them to you if you are out of space.
Capturing[3]
Pets are caught via PvE battles in the world. Any pet you can fight, you can catch. In order to catch a pet, you need to get it to low health and use your trap ability. Traps upgrade via specific achievements, improving your chance to catch higher level pets.
You can catch up to three of the same type of pet.
Pet Quality[3]
Pets that are captured in the world have varying levels of quality, just like an item would. The quality stat is randomly determined every time a pet spawns. Higher quality pets get a larger stat allotment each time you level. Be on the lookout for Rares!
Pets on the AH[3]
Most pets can be bought and sold from the AH. A new section is on the AH specifically for this.
Pets that are sold on the AH retain their stats and levels.
Pets that can't be traded will display a warning in their info text as well as having the "Put in Cage" option disabled.
Battle pet family overview
Battle pets will fall into one of 10 possible pet families. Each pet family has its own strengths and weaknesses when up against certain other companion families.[13][14][15][16]
Families
Strengths and Weaknesses
Battle pet passive abilities
Each battle pet of particular family/type share a specific passive ability:[16][20]
Battles
Basics from Beta FAQ:[3]
PvE battles take place in two ways: against NPC trainers and against pets that you can fight in the world. Pet tracking will let you find pets in the world that you can fight and capture. Keep an eye out!
PvP battles also have two varieties. You can choose to duel another player or you can queue up and be matched against another player of similar skill. Note that you do not earn XP for duels.
Pets heal a portion of their health after every fight. The amount healed is 50% of the damage that they took during the fight. You can also full heal all of the pets in your journal with the

[Revive Battle Pets]

ω ϖ spell (10 min cooldown; 3 min warmup after login).[21]

If one of your pets die in battle you can resurrect it using the Revive Battle Pets spell or just find a friendly, neighborhood Stable Master.
Leveling
How catching affects level:[22]
Catching any pet level 15 or under retains its current level.
Catching a level 16-20 pet will lose 1 level.
Catching a level 21-25 pet will lose 2 levels.
The XP required to level for pets after level 10 has been dramatically reduced.
Media
Video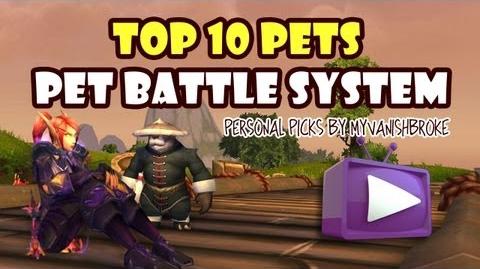 References
See also
External links
Official info
Other info
News
Related