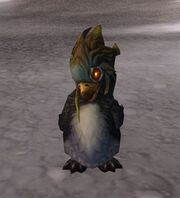 Prior to Patch 3.3 he was often called a "Demon Penguin" due to his blood red eyes. As of 3.3. his model was changed to that of Mr. Chillys, much to the disappointment of many players who wished to keep Mr. Chilly unique. However, there is a still a distinct difference in color and texture between the two penguins.
This item is a reputation reward; you must be Exalted with the Kalu'ak to buy it from the following vendors for 12

:
External links
Edit
Ad blocker interference detected!
Wikia is a free-to-use site that makes money from advertising. We have a modified experience for viewers using ad blockers

Wikia is not accessible if you've made further modifications. Remove the custom ad blocker rule(s) and the page will load as expected.