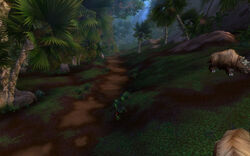 The Path of the Lifewarden is a road that encircles Sholazar Basin's various "pillars". For exploration purposes, players will probably only get credit for the path on the west side of the region. The road was probably continuous at some time in the past, but the wear of the millennia and water-flow have created breaks in various places.
Ad blocker interference detected!
Wikia is a free-to-use site that makes money from advertising. We have a modified experience for viewers using ad blockers

Wikia is not accessible if you've made further modifications. Remove the custom ad blocker rule(s) and the page will load as expected.