Path of Cenarius

User: Leaves flowers in your wake for 5 min.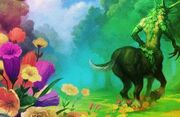 Each card redeems for a stack of 100.
Usable in feral / altered forms (except flight).
Only dying and mounting removes the buff, zoning hearthing etc. does not break buff.
Is a super-common loot card.
Usable at any level and therefore available for twinks.
External links
Edit

Warcraft Loot Cards
Path of Cenarius - Video

UpperDeck Entertainment
Fields of Honor Loot Card Preview
Ad blocker interference detected!
Wikia is a free-to-use site that makes money from advertising. We have a modified experience for viewers using ad blockers

Wikia is not accessible if you've made further modifications. Remove the custom ad blocker rule(s) and the page will load as expected.