Parrot Cage (Hyacinth Macaw)

Item Level

20

Use: Teaches you how to summon this companion.
Sell Price: 10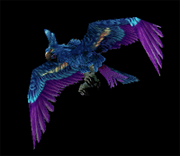 The Parrot Cage (Hyacinth Macaw) item teaches you how to summon and dismiss a Hyacinth Macaw, a parrot Companion. It is the rarest companion in the game.
Parrot Cage (Hyacinth Macaw) drops from all mobs in the Stranglethorn Vale regions.
This pet has the smallest drop rate in the game,[citation needed] at approximately 0.0005 = 0.05%[citation needed], and so takes an incredible amount of patience and determination in order to get one. To put the drop rate in perspective, killing 1400 of these mobs will give you a chance to see this drop at least once. Due to the difficulty of obtaining one, and thus their rarity, they can sell for huge amounts of gold on the Auction House. Prices average from 10,000g to 20,000g on some servers, if it is seen at all.
Now that it has been changed to an epic quality item, even new players are unlikely to mistakenly sell this bird for a low price.
It used to only drop from Bloodsail pirates, but this was changed in a patch.
See also
Edit
Patch changes
Edit
External links
Edit
Item
Summoning spell
Other info

WarcraftPets
Ad blocker interference detected!
Wikia is a free-to-use site that makes money from advertising. We have a modified experience for viewers using ad blockers

Wikia is not accessible if you've made further modifications. Remove the custom ad blocker rule(s) and the page will load as expected.