The subject of this article was removed from World of Warcraft due to the devastating Cataclysm.

The in-game information in this article is kept purely for historical purposes and may not need to remain under any other categories.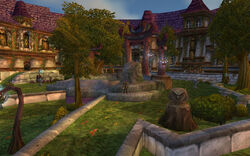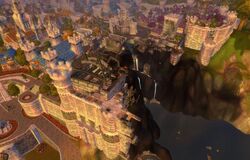 The Park was located in the western corner of Stormwind City. It was once a district devoted to leisure activities for Stormwind's populace.[citation needed] It has recently been donated as a refuge for visiting night elves, who find the comforting presence of nature a welcome respite from the vast stone thoroughfares of Stormwind proper. It is currently the only place in the Eastern Kingdoms where druid trainers reside. The night elves created a Moonwell in the center of the park square.
To get to the Park, you could head southwest from Cathedral Square or northwest from the Mage Quarter.
Quests
NPCs
Notes
The Park was a peaceful place where players might come to get away from it all. No major in-game events happend in this location except the Lunar Festival.
Due to the park being mostly inhabited by night elves, this area has also been called the night elf district. It reportedly went under this name in some Alpha builds.[citation needed]
In Cataclysm

This section concerns content exclusive to Cataclysm.