Ad blocker interference detected!
Wikia is a free-to-use site that makes money from advertising. We have a modified experience for viewers using ad blockers

Wikia is not accessible if you've made further modifications. Remove the custom ad blocker rule(s) and the page will load as expected.
For the mob, see Panther (mob).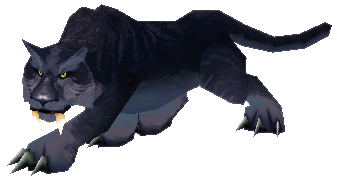 A variety of big cat, panthers are found in the Thousand Needles, Swamp of Sorrows, and all over Stranglethorn Vale. Since the Cataclysm, they have disappeared from the Swamp of Sorrows.
A being like a "winged panther" was one of the Ancients that fought during the War of the Ancients. It had almost human hands.[1] (Sund 210)
Notable panther
Edit