Pandaren Earth Spirit

Item Level

20

Use: Teaches you how to summon this companion.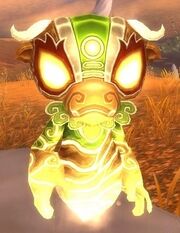 Pandaren Earth Spirit summons an Elemental Battle pet Companion. It is a reward from the Pandaren Spirit Tamer for defeating all the Pandaren Spirits in a Pet battle. It can also be obtained from the quest reward, [Pandaren Spirit Pet Supplies].