Pamela's Doll's Right Side
Use: Attach the pieces into a whole.
Objective ofEdit
Needs to be attached to other pieces for the quest

 [55] Pamela's Dollω τ ϖ.
As an objectEdit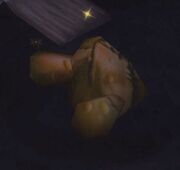 The Pamela's Doll's Right Side is located in Darrowshire of Eastern Plaguelands.
Getting close to it will summon a
 [55] Ghost of the Past.
Patch changesEdit
Patch 1.4.0 (2005-05-05): The "haunting" radius of Pamela's doll pieces in Darrowshire was reduced. You must now be closer to a doll piece before ghosts appear.

External linksEdit