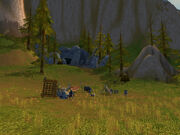 Palemane Rock is a cave in Mulgore
REDIRECT Template:Map/Coords, west of Bloodhoof Village and is inhabited by gnolls of the Palemane tribe. They are aggressive creatures, and will attack any who wander too close.
The gnolls live both inside the cave and in a camp outside, and the cave itself stretches fairly deep into the mountainside.
Ad blocker interference detected!
Wikia is a free-to-use site that makes money from advertising. We have a modified experience for viewers using ad blockers

Wikia is not accessible if you've made further modifications. Remove the custom ad blocker rule(s) and the page will load as expected.