Ad blocker interference detected!
Wikia is a free-to-use site that makes money from advertising. We have a modified experience for viewers using ad blockers

Wikia is not accessible if you've made further modifications. Remove the custom ad blocker rule(s) and the page will load as expected.
Note: Level 20 mounts require Apprentice Riding (75) (given automatically at level 20) and level 40 require Journeyman (150) (need to train) before trainers will offer them.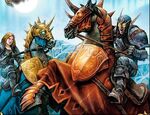 Ability
Min Level
Faction/Race

Summon Exarch's Elekk

20
 Draenei

Summon Sunwalker Kodo

20
 Tauren

Summon Thalassian Warhorse

20
 Blood elf

Summon Warhorse

20
 Dwarf
 Human
Ability
Min Level
Faction/Race

Summon Charger

40
 Dwarf
 Human

Summon Great Exarch's Elekk

40
 Draenei

Summon Great Sunwalker Kodo

40
 Tauren

Summon Thalassian Charger

40
 Blood elf