The subject of this article was removed from World of Warcraft after the Mists of Pandaria cleared.

The in-game information in this article is kept purely for historical purposes and may not need to remain under any other categories.

Overkill is a talent in the Assassination tree, you will need to spend 31 points in Assassination to get it. It increases energy regeneration of the rogue by a percentage while in Stealth mode.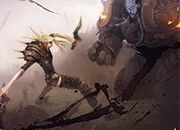 Patch changes
Edit
Patch 3.2.0

(04-Aug-2009): Being under the effects of

[Cyclone]

when the buff from this talent is about to expire will no longer make it last indefinitely.


Patch 3.1.3

(2009-06-02): Talent redesigned. Now increases energy regeneration by 30% while stealthed, and for 20 seconds after breaking stealth.
            Before: Abilities used while stealthed and for 6 seconds after breaking stealth cost 10 less energy.

/

Patch 3.0.2

(14-Oct-2008): Added.

External links
Edit
Ad blocker interference detected!
Wikia is a free-to-use site that makes money from advertising. We have a modified experience for viewers using ad blockers

Wikia is not accessible if you've made further modifications. Remove the custom ad blocker rule(s) and the page will load as expected.