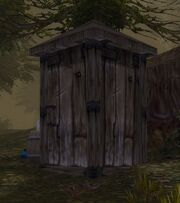 The Outhouse is located in Dalson's Tears of Western Plaguelands. [48.2, 49.7]
Mrs. Dalson locked the body of her husband in this outhouse once it was evident he was going to become one of the Undead. (The mortal remains of Mrs. Dalson now wander the farm as a Wandering Skeleton.)
Completing the quest Mrs. Dalson's Diary will allow you to take the [Dalson Outhouse Key] off the skeleton's body.
Objective of
Edit
Needs [Dalson Outhouse Key] for the

 [55] Locked Away.
See the quest chain: Locked Away.
External links
Edit
Ad blocker interference detected!
Wikia is a free-to-use site that makes money from advertising. We have a modified experience for viewers using ad blockers

Wikia is not accessible if you've made further modifications. Remove the custom ad blocker rule(s) and the page will load as expected.