Oshu'gun Crystal Powder

Item Level

165

Unique (100)
"You may turn 10 of these items in to Chief Researcher Kartos at Halaa if the Alliance have control of the base."
A common item that drops about 6% of the time from ogres and other mobs in Nagrand. You can trade ten (10) of these powders to Quartermaster Davian Vaclav for the Alliance or Quartermaster Jaffrey Noreliqe for the Horde in the town of Halaa, Nagrand for a [Halaa Research Token]. Your faction is required to have control of Halaa in order to get the quest to gain research tokens. These can be used alongside [Halaa Battle Token]s to buy items.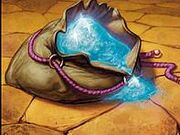 Patch changes
Edit
External links
Edit
| Horde | Alliance |
| --- | --- |
| | |
Ad blocker interference detected!
Wikia is a free-to-use site that makes money from advertising. We have a modified experience for viewers using ad blockers

Wikia is not accessible if you've made further modifications. Remove the custom ad blocker rule(s) and the page will load as expected.