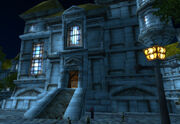 The Stormwind orphanage houses the mostly human orphans of various wars from the recent history of Stormwind City. They are cared for and overseen by Orphan Matron Nightingale and Shellene in the Cathedral Square area of the city.
During the Children's Week event players are encouraged to temporarily adopt orphans and show them some sights beyond the orphanage beginning with the

 [60] Children's Week quest.
Inhabitants
Edit
Ad blocker interference detected!
Wikia is a free-to-use site that makes money from advertising. We have a modified experience for viewers using ad blockers

Wikia is not accessible if you've made further modifications. Remove the custom ad blocker rule(s) and the page will load as expected.