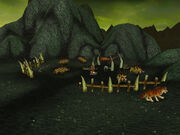 Oronok's Farm is a simple boar-farming camp and home to Oronok Torn-heart, a neutral orc quest giver. It is found at the top of the mountain northeast of Coilskar Point in northern Shadowmoon Valley. The pigs here are called Domesticated Felboars.
Ad blocker interference detected!
Wikia is a free-to-use site that makes money from advertising. We have a modified experience for viewers using ad blockers

Wikia is not accessible if you've made further modifications. Remove the custom ad blocker rule(s) and the page will load as expected.