Ornate Mithril Boots

Item Level

49

324 Armor
Durability 55 / 55
Requires level 44
Equip: Increases your dodge rating by 12.
Use: Removes existing Immobilizing effects and makes you immune to Immobilizing effects for 5 sec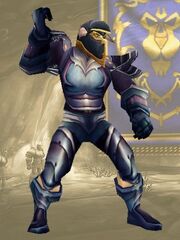 Ornate Mithril Boots are plate boots that provides a bonus to dodge and can be used to remove immobilization effects.
The quest The Art of the Armorsmith, that specializes a blacksmith as an armorsmith requires a number of these be turned in.
This item is created with Blacksmithing; taught from

 [45] The World At Your Feet.
Objective of
Edit
External links
Edit
Ad blocker interference detected!
Wikia is a free-to-use site that makes money from advertising. We have a modified experience for viewers using ad blockers

Wikia is not accessible if you've made further modifications. Remove the custom ad blocker rule(s) and the page will load as expected.