Order of the Cloud Serpent
104,163pages on
this wiki
Talk

0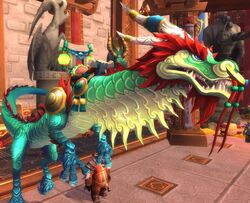 The Order of the Cloud Serpent is a pandaren faction that has sworn to defend the Jade Forest. They train at the Arboretum[58, 45], just north of the Temple of the Jade Serpent.
Players working with the faction strive to become a serpent rider, raising a baby serpent from an egg. Training it every day, they work with it until it becomes an adult. Once they have proven themselves, they will be free to wander the land with their serpent as their flying mount. They will also earn the Cloud Serpent Riding Skill, allowing them to ride any of the Cloud Serpent mounts from Pandaria.
The Order of the Cloud Serpent quartermaster is San Redscale, found within he Arboretum.
Patch changes
External links