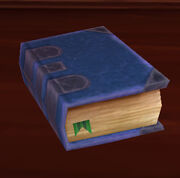 Orcish / Common Dictionary can be found in Dalaran.[71.7, 32.5]
Orcish / Common Dictionary
BUR - An aggressively passionate mating call.
What can I do fer ye? - Beer sold here.
Hi - A threatening war cry, especially when accompanied by a wave or bow.
How are you? - Was your mother really a reptile?
King's Honor, friend! - I'm starving!
Inspiration
Edit
Possibly an homage to a Monty Python sketch in which a man published a deliberately inaccurate English / Hungarian phrasebook, translating commonly used phrases by tourists (such as "which way to the train station?") into insults or other provocative comments (like "please fondle my buttocks").
External links
Edit
Ad blocker interference detected!
Wikia is a free-to-use site that makes money from advertising. We have a modified experience for viewers using ad blockers

Wikia is not accessible if you've made further modifications. Remove the custom ad blocker rule(s) and the page will load as expected.