| | |
| --- | --- |
| | The subject of this article or section is part of Midsummer Fire Festival, a seasonal event that lasts two weeks. Once the event has run its course, this will no longer be available until next year, but there are no guarantees. |

Orb of the Crawler

Item Level

20

Use: Transforms you into an innocent crab for 3 min. It can only be used upon the Zoram Strand of Ashenvale. Only the new Twlight Cultists and their allies will be fooled. Looting, taking a hostile action, or casting beneficial spells will drop the disguise.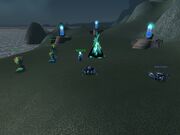 Orb of the Crawler is used to disguise players as a crab while on the Zoram Strand in Ashenvale. Use it to eavesdrop on the Twilight's Hammer cultists in the area.
Follow the braziers west of the entrance to Blackfathom Deeps and turn north once reaching the water. Use the item close to the bonfire and pillars. Only the scripted Humanoids in the area will be made friendly. All other mobs are still hostile.
Provided for the quest

 [70] An Innocent Disguise
Patch changes
Edit

Patch 2.4.0 (25-Mar-2008): Added

External links
Edit
Ad blocker interference detected!
Wikia is a free-to-use site that makes money from advertising. We have a modified experience for viewers using ad blockers

Wikia is not accessible if you've made further modifications. Remove the custom ad blocker rule(s) and the page will load as expected.