This article or section contains information that is out-of-date.

Please replace the old information with up to date information.
This may include rewriting sections to ensure they are clear and concise, and wikifying.
Reason: Could user newer screenshot.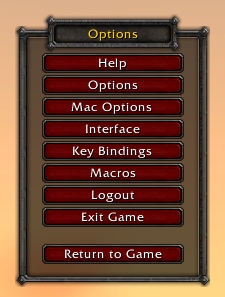 The Options window (Hotkey: Esc; tooltip shown as "Game Menu" from Micro Menu button) is the main configuration control panel for the game. It does not show any information about specific logged-in characters and has settings that should take affect globally.
See also
Edit
Ad blocker interference detected!
Wikia is a free-to-use site that makes money from advertising. We have a modified experience for viewers using ad blockers

Wikia is not accessible if you've made further modifications. Remove the custom ad blocker rule(s) and the page will load as expected.