The Old Outlands (or also known as the Outlands testing area) is a zone located next to the Ironclad cove in the deadmines. The area can only be accesed by using an elixir of giant growth on the pipe in the start of the deadmines.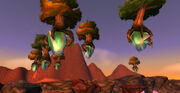 Old Outlands
Edit
The area is called the Old Outlands (or Outlands testing area) because of its strong resemblance to Outlands. The area is very small and features a bunch of floating trees.
Getting There
Edit
In order to get there the following is required
Elixir of Giant Growth Human, Orc, Undead or Troll race Slow fall, parachute or Xtreme Rocketboots and parachute
The first step in getting there is to jump onto the pipe at the start of the instance. Next, you go up to the wall and use the elixir of giant growth. Then you jump up, use slow fall and jump forward. Finally you should hit water, swim up (if you fall and die, you didn't jump forward). You then jump over a line of water and head over some white land. You are there once you hit dirt.
Ad blocker interference detected!
Wikia is a free-to-use site that makes money from advertising. We have a modified experience for viewers using ad blockers

Wikia is not accessible if you've made further modifications. Remove the custom ad blocker rule(s) and the page will load as expected.