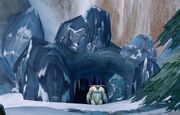 Old Icebeard is a level 11 elite wendigo found in and near a cave in Chill Breeze Valley in Dun Morogh. [38.5, 53.9]
Old Icebeard stole Tundra MacGrann's meat locker containing MacGrann's Dried Meats. Old Icebeard wanders off from his cave regularly, leaving the meat locker unguarded.
As a level 11 elite with 666 health, he bears strong ressemblance with both Hogger and Flat Tusk.
Notable drops
Edit
External links
Edit