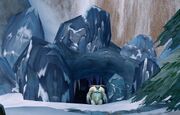 Old Icebeard is a level 11 elite wendigo found in and near a cave in Chill Breeze Valley in Dun Morogh. [38.5, 53.9]
Old Icebeard stole Tundra MacGrann's meat locker containing MacGrann's Dried Meats. Old Icebeard wanders off from his cave regularly, leaving the meat locker unguarded.
As a level 11 elite with 666 health, he bears strong ressemblance with both Hogger and Flat Tusk.
Notable drops
Edit
External links
Edit
Ad blocker interference detected!
Wikia is a free-to-use site that makes money from advertising. We have a modified experience for viewers using ad blockers

Wikia is not accessible if you've made further modifications. Remove the custom ad blocker rule(s) and the page will load as expected.