103,470pages on
this wiki
Talk

0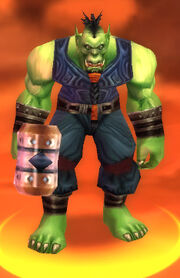 Okothos Ironrager is a former orc quest giver, now a blacksmithing trainer, located at The Burning Anvil[75.6, 34.6] in the Valley of Honor in the orcish city of Orgrimmar.
Removed quests


Note: These quests are no longer associated with this particular mob/NPC/item.
Patch changes

Patch 4.0.3a (2010-11-23): Title changed from Armorsmith; quest removed.

External links