Ad blocker interference detected!
Wikia is a free-to-use site that makes money from advertising. We have a modified experience for viewers using ad blockers

Wikia is not accessible if you've made further modifications. Remove the custom ad blocker rule(s) and the page will load as expected.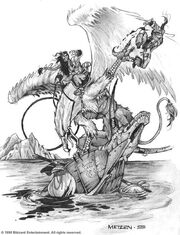 Oil tankers are ships used to transport crude oil from oil platforms out in the ocean to oil refineries on the main land to be processed into useable oil.
Orc Oil Tanker
Edit
The Orc Oil Tanker is crudely constructed, as its purpose is for bearing cargo - not weapons or troops. The Tanker, being little more than a collection of wood, bone and storage space, is crewed by a mob of Orcs scarcely more capable than the lowly Peons. Other than being able to pilot the craft, the crew of the Tanker performs tasks equivalent to those of a Peon - building Oil Platforms and returning their cargo so that it may be processed and used as the overseer chooses.[1] (W2Man 76)
Alliance Oil Tanker
Edit
As the only ships which do not require oil to be built, Oil Tankers make possible the construction of the Alliance fleet. They are manned by hard working, dependable mariners who search for the rich oil deposits which lie beneath the waves. The crew of every Tanker is skilled in building Oil Platforms and ferrying the oil back to a Shipyard or Oil Refinery where it may be processed and put to use.[1] (W2Man 49)