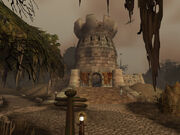 North Point Tower was built by the inhabitants of Theramore Isle in northern Dustwallow Marsh near a well-traveled stretch of road. It is staffed by a sizable contingent of Theramore soldiers who have imprisoned a blood elf of the Horde here. The prisioner has a friend in Brackenwall Village who pleads passerby to rescue his friend.
To North Point
At North Point
From North Point
See also: Dustwallow Marsh quests 
Ad blocker interference detected!
Wikia is a free-to-use site that makes money from advertising. We have a modified experience for viewers using ad blockers

Wikia is not accessible if you've made further modifications. Remove the custom ad blocker rule(s) and the page will load as expected.