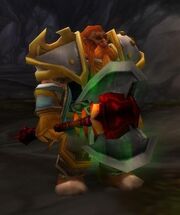 This item can be crafted using Blacksmithing (300); taught by [Plans: Nightfall].
For a time, this weapon was still popular, even among level 70s, as it was one of the few ways that an offtank could contribute significant raid DPS while in tank gear. Warriors would tend to use it with Hamstring to generate procs, while Paladins would use it with Seal of the Crusader. Since patch 2.4.2, it no longer generates significant DPS at level 70.
Patch changes
Edit
Patch 2.4.2

(2008-05-13): Nightfall now has a chance to fail on targets over level 60.


Patch 1.6.0

(12-Jul-2005): Added.

External links
Edit
Ad blocker interference detected!
Wikia is a free-to-use site that makes money from advertising. We have a modified experience for viewers using ad blockers

Wikia is not accessible if you've made further modifications. Remove the custom ad blocker rule(s) and the page will load as expected.