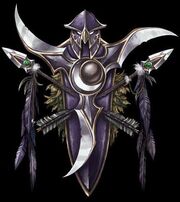 The Icon of Wisdom is the racial crest of the night elves, and symbolizes the knowledge that comes with their incredible longevity. The crest features a warden's helmet, which strongly resembles an owl's head, as well as a moon glaive bearing a crescent moon design, representing their faith in Elune. Beneath are a pair of crossed arrows accented with black feathers, a shield, and a bed of fallen leaves.
Ad blocker interference detected!
Wikia is a free-to-use site that makes money from advertising. We have a modified experience for viewers using ad blockers

Wikia is not accessible if you've made further modifications. Remove the custom ad blocker rule(s) and the page will load as expected.