104,155pages on
this wiki
Talk

0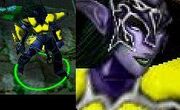 The Night Elf Runner was sent out by Maiev Shadowsong to get help from Malfurion Stormrage in Warcraft III Frozen Throne Expansion Night Elf Campaign. She has no attack, but can heal allies.
Quotations
Trained
- I'm on my mark
Selected
- What news?
- Which way?
- Guide me.
- Show me the path.
- There's no time to rest.
Moving
- Just do it.
- As fast as I can.
- Let's run!
- Make for the trees!
- I'll get there on time.