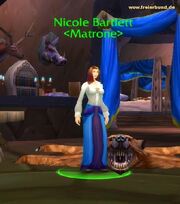 Nicole Bartlett is one of the matrons at the orphanage in the Lower City of Shattrath City.
Nicole Bartlett says: Hello, what business brings you here?
Nicole Bartlett says: This is an orphanage for the children of Outland who have lost their parents and have no one else to look after them.
Nicole Bartlett says: Perhaps you are here because you are considering adoption?
Patch changes
Edit
External links
Edit
Ad blocker interference detected!
Wikia is a free-to-use site that makes money from advertising. We have a modified experience for viewers using ad blockers

Wikia is not accessible if you've made further modifications. Remove the custom ad blocker rule(s) and the page will load as expected.