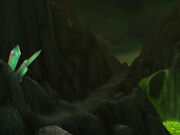 The Netherwing Pass is a cut through the mountains south of Sanctum of the Stars that leads to an area opposite Netherwing Ledge. Despite its name, there are no nether drakes present here, and the pass is used mainly for walkers to access the Altar of Shadows, which can be found just southeast of the pass.
Ad blocker interference detected!
Wikia is a free-to-use site that makes money from advertising. We have a modified experience for viewers using ad blockers

Wikia is not accessible if you've made further modifications. Remove the custom ad blocker rule(s) and the page will load as expected.