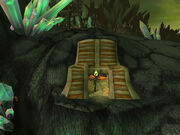 The Netherwing Mines are a vast digsite system on the western tip of Netherwing Ledge. It is populated by Dragonmaw fel orc miners, but has recently become overrun with rock flayers and oozes.
Quest givers
Edit
Netherwing Mines shares the same layout as the Garrison Armory.
Ad blocker interference detected!
Wikia is a free-to-use site that makes money from advertising. We have a modified experience for viewers using ad blockers

Wikia is not accessible if you've made further modifications. Remove the custom ad blocker rule(s) and the page will load as expected.