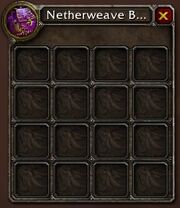 A Netherweave Bag is a 16-slot bag made from Netherweave Cloth.
This item is crafted by Tailors with a skill level of 315.
Ingredients
Raw Ingredients
The skill requires 315 Tailoring and is taught by Dalinna <Grand Master Tailor> in Thrallmar, and Hama <Grand Master Tailor> in Honor Hold. Both are located in Hellfire Peninsula.
External links
Edit
Ad blocker interference detected!
Wikia is a free-to-use site that makes money from advertising. We have a modified experience for viewers using ad blockers

Wikia is not accessible if you've made further modifications. Remove the custom ad blocker rule(s) and the page will load as expected.