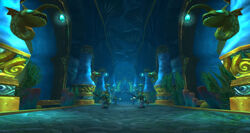 Neptulon's Rise[49.2, 41.4] makes up most of the second floor of the Throne of the Tides, consisting of a long hallway and small area leading to the Throne of Neptulon. Players gain access to this area by way of the elevator within the Riptide.
Naga and deep sea murlocs can be found here, protecting Lady Naz'jar. Upon defeating Naz'jar within the Throne, this is also where the second boss of the instance appears.
Inhabitants
Edit
The deep sea murlocs above are part of the "gauntlet" players are faced with when attempting to proceed to the Throne and will come in waves. The naga are largely stationary and waiting for players.
Ulthok appears alone, with no adds.
Patch changes
Edit
Ad blocker interference detected!
Wikia is a free-to-use site that makes money from advertising. We have a modified experience for viewers using ad blockers

Wikia is not accessible if you've made further modifications. Remove the custom ad blocker rule(s) and the page will load as expected.