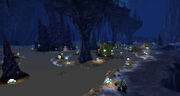 Needlerock Chasm[27, 34] is located in the upper shelf of Deepholm, north of Needlerock Slag and northeast of the Temple of Earth. This is where the stone troggs are summoning fungal giants into being to use against the earthen, and also where their leader, Bouldergut, is holding the earthen leader Stonefather Oremantle captive in the upper levels.
Inhabitants
Edit
Lower level
Edit
NPCs are located on the outskirts[27.5, 44.8] of the area.
Quest givers
NPCs
Mobs
Upper level
Edit
Area appears to be phased, mobs/NPCs appearing during Rescue the Stonefather... and Flint
NPCs
Mobs
Stonefather Oremantle and his nemesis, Bouldergut, can be found at one of the farther shelves[24.1, 39.6] in the upper level of the Chasm.
Patch changes
Edit
External links
Edit
Ad blocker interference detected!
Wikia is a free-to-use site that makes money from advertising. We have a modified experience for viewers using ad blockers

Wikia is not accessible if you've made further modifications. Remove the custom ad blocker rule(s) and the page will load as expected.